The Science Behind Drug Discovery in Industry
Seminar/Forum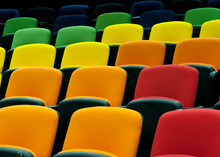 Bio21 Institute auditorium
David Penington Building
Flemington Road
Map
More information
T: 90353015
Three eminent internationally based pharma researchers will discuss the science behind the successful development of therapeutic drugs into the clinic. Come and hear these unique stories on what scientific life in industry is like and can offer. After the formal symposium, there will be a Q&A panel session and a mixer where more information and insights can be gained.
Presenters
Dr Brent McKenzie

Head of Translational Immunology
Genentech

Brent McKenzie is the head of Translational Immunology at Genentech South San Francisco. He has over 15 years' experience in early stage drug discovery and development. An Immunologist with extensive background in invivo pharmacology, Autoimmunity, Inflammation, Fibrosis, Ocular disease, Infection, Coagulation, Cancer, Metabolism & Vaccines. A leader of large multidisciplinary teams, BD deals and company acquisitions. His team at Genentech works on large and small molecule drug discovery and development for inflammatory, ocular, fibrotic and infectious diseases.

Dr Matthew Sleeman

VP of the Immunology & Inflammation group
Regeneron

Matthew Sleeman is the VP of the Immunology & Inflammation group at Regeneron. His team supports the development of novel biologic therapies for the treatment of a range of different allergic and autoimmune diseases, such as atopic dermatitis, asthma and rheumatoid arthritis. In addition his group also works in immunooncology to develop new therapeutic approaches for cancer. This team has successfully supported the development of a number of Regenerons approved therapies, such as Dupixent (AntiIL4R), Kevzara (AntiIL6R) and Libtayo (antiPD1). Prior to joining Regeneron Matt Sleeman was a Senior Director of Biology for the Respiratory, Inflammation and Autoimmunity Group at MedImmune in Cambridge UK and also held several positions within Cambridge Antibody Technology (CAT). During this time he collaborated with CSL, the Walter and Eliza Hall Institute and the University of Melbourne working on the GMCSF pathway, ultimately leading to the generation and development of the GMCSFRa antibody mavrilimumab. Before working in the antibody field, he worked for a New Zealand start up Genesis Research & Development isolating and characterizing novel growth factors and cytokines. Matt Sleeman holds a PhD from the University of Durham, UK.

Dr Joseph Arron

Senior Director of Immunology Discovery
Genentech

Joseph Arron earned an undergraduate degree from Princeton University, completed a combined MDPhD degree at Cornell University Medical College and the Rockefeller University, and conducted postdoctoral studies at Stanford University School of Medicine. Dr. Arron joined Genentech in 2006, where his laboratory has discovered molecular bases for heterogeneity in asthma and pulmonary fibrosis, enabling target and biomarker discovery for novel investigational molecular therapies and resulting in more than 50 peerreviewed publications. In addition to supervising translational research in his laboratory, he is Senior Director of Immunology Discovery, a department of 12 laboratories responsible for target discovery and preclinical therapeutic development in inflammatory, autoimmune, fibrotic, and ophthalmic diseases.